We had leftover ham from Christmas, courtesy of my grandparents, but what to do with it? We aren't huge ham eaters around here, although Mark did take a sandwich to work today, but I knew that we wouldn't eat everything that was sent home with us, so I did some searching on
all recipes
and I was not disappointed. Here are the results.
Cheesy Potatoes and Ham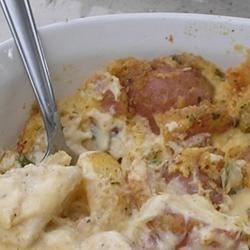 Ingredients
2(ish) pounds of Potatoes (I used 3 small leftover russets that I had laying around, and a few small red skin potatoes), skins on (or, off if you like, whatever floats your boat), chopped into small bite sized pieces.
leftover Cooked Ham, cut into small pieces, about a 1 1/2, or 2 cups
1 can Cream of Mushroom Soup (really, you could use whatever cream soup here you like)
8 oz. Sour Cream
1 cup Cheddar Cheese
sprinkle of Garlic Powder (about a tsp.)
Salt and Pepper to taste
(You could also mix in some sliced scallions for color and flavor, but I didn't have any on hand)
Bread crumbs and Parmesan, for sprinkling
Directions
1. Spray/lightly grease a 13 x 9" pan.
2. Mix together potatoes, ham, soup, sour cream, cheese, salt, and pepper. Make sure everything is good and combined.
3. Dump mixture into cassarole dish. Bake covered at 400F degrees for about 45 mins - 1 hour.
*You could cut down on cooking time here by par-boiling the potatoes before mixing everything together, but really, I think it's easier just to let them cook with everything, less mess, and it takes about the same amount of time anyway, possibly longer since you'd have to wait for water to boil.
4. Once potatoes are tender, uncover dish, sprinkle with bread crumbs and parmesean cheese. Bake uncovered for 10 mins to allow top to crisp.
*recipe adapted (and pic borrowed from) AllRecipes.com