*sigh*

So, you would think that when you want to buy new bedding, you just go to whatever store sells bedding, choose the one you like, bring it home, and that's it. End of story. Well, not so much if you're me.

We have had the same duvet set since we moved into our house nearly two years ago. It's a light tan color, with a white outline on the top of the bed. The set is okay, but it's not something that I love, and I think by switching it out, it will spruce up our bedroom some. So, we started looking around for a new bedding set.

About 2 weeks ago, we brought home a chocolate comforter that we thought would look nice. Turns out, being that our bedroom walls are a plum color, the brown looked too dark in my opinion. We returned that and ended up purchasing another duvet and a quilt yesterday. The duvet is solid khaki, and the quilt is about the same color as our walls. My theory was that we could use the quilt to break up the plainness of the khaki spread. Again, not so much, it's too plain in my opinion. Still don't like it, so now both the duvet set and the quilt will be returned.

Ugh, I'm so annoyed that I can't just find what I want. I have literally not seen anything that I love. I'm just not sure what the heck to put in our bedroom!

Any ideas?
This is what we currently have, the walls are a deep plum color, they look more purple in this pic than they actually are: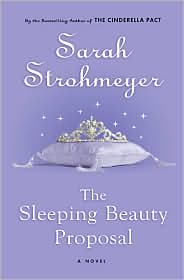 On another topic, yesterday, I finished reading Sarah Strohmeyer's,
The Sleeping Beauty Proposal.
This novel was total chick lit, but it was nice and upbeat, as well as an easy read. It was kind of a far fetched story about a woman in her early thirties who fakes her own engagement after her butthead of a boyfriend proposes to someone else on national TV after 4 years with her. Instead of explaining to everyone that the proposal wasn't actually meant for her, she rolls with it and starts accepting congratulations, gifts, and other things that happen to come her way now that "her life is just beginning".
One thing that I really liked about this novel is that the author explored expectations that society has that every woman wants to get married and that their life doesn't truely start until they are someone's wife. The heroine of the novel goes on to improve her life based on the ring on her finger. She gets in shape, purchases a house, gets a promotion at work, all because she is now going to be a married woman - or, so she thinks.
Eventually, she figures out that she doesn't need a husband to be a successful woman in her thirties. Of course her lame-o boyfriend comes back to beg her forgiveness and offer a real proposal, which she turns down, and of course she ends up with the right guy in the end, but this piece of chick lit actually makes you think a little about societal expectations.